At the Lamoille Valley Church of the Nazarene you can expect:
A friendly sense of community and care for families, singles, newlyweds, senior citizens, young children, teens, and all ages in between
A concern for families expressed in social activities, service opportunities, learning situations, and worship experiences
Participation in ministry through Sunday School, men's and women's events, youth and children's programs.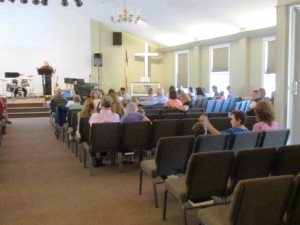 Spiritual nurture is the church's most basic responsibility.  In the Lamoille Valley Church of the Nazarene this will be expressed by:
Pastoral counseling and prayer meetings
Special times of evangelism and outreach
Opportunities for times of public commitment and prayer at the altar
Participation in the sacraments, both baptism and Communion
Study programs like Sunday School and Bible study groups
Retreats and Summer Camps for teens through adults
Providing opportunity for ministry
Click on the drop down menus at the top of this page for information on specific ministries.